Are you striving to be a GOAT?
Introducing The GOAT Consulting Podcast
I ntroducing the Goat Consulting Podcast. Colby (50's). John (40's) and Tyler (30's) "serve up" emotionally compelling and entertaining content around life, business and relationships. We are a "quickcast" or a car ride to work and a car ride home. In sports GOAT's are easy to see as they are recognized for the greatness. What they do elevates the play of those around them.
In business, GOAT's are harder to see. They compete on unique perspective, unique education and unique experience. What they do gives them energy and gives other people energy creating new loves of challenge and new levels of opportunity. We attract people striving to be a GOAT in all stages of life. We are like Waffle House. We serve it up in a way YOU can get it.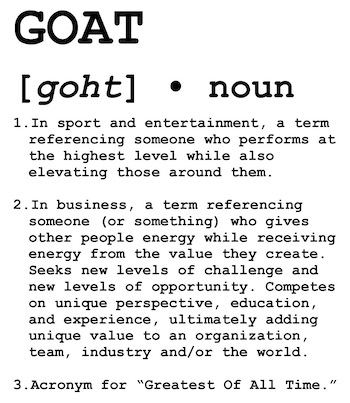 Three Hosts
Compelling, Entertaining Content
We Help People in All Stages of Life
In our 20's, we try to get in the game.
In our 30's, we try to move up in the game.
In our 40's, we try to stay in the game (because those 30 years olds are so good).
In our 50's, we ask what is it that we really want!
In our 60's, we get "IT" and do "IT."
If you want a better outcome, then have a better conversation with yourself, your team, and the marketplace.
"Colby has a likeable, authentic style that will get you comfortable just in time for you to get a little uncomfortable. Colby delivers meaningful, relatable, and applicable content regardless of your role or industry, all while challenging you at the same time. If I could go back to college and hand pick a few professors, Colby would be one of them. (Mic Drop)"